With the US-China rivalry in African business reaching new heights, Angola has found itself at the centre of the economic diplomacy dispute. Gong Tao, China's ambassador in Luanda since mid-2019, even came out to publicly defend the advantages of the Chinese cooperation model, responding to "malicious defamation" by the administration of Donald Trump.
The Chinese diplomat's position, outlined in an opinion piece in the state daily Jornal de Angola on 22 February, followed a visit by US Secretary of State Mike Pompeo to several African countries with strong relations with China, among them Angola.
"Some outside forces have tried to maliciously obstruct and defame China-Africa cooperation with such a theory called a 'debt trap'," says Gong Tao in the article. But, he adds, these are "false words" that are "completely rejected by the African people."
"China always strengthens its investment and financing cooperation in Africa according to the needs of African countries, in order to help Africa improve infrastructure and accelerate development, and always tries to find a sustainable solution that is mutually acceptable, through friendly and balanced consultations," he explains.
Financial cooperation, says the diplomat, "is also a reflection of China's confidence in Africa's development."
Criticisms of the Chinese cooperation model were constant in Secretary Pompeo's first visit to the African continent, which included Senegal, Ethiopia and Angola.
Without presenting new investment initiatives or financial assistance, Pompeo asserted the investment of US companies in African countries as the most advantageous.
"When we [Americans] come, we hire Angolans (…), we do high-quality work, it is transparent. (…) Not all nations that come to invest here do this. [With the US] there are no political objectives," said Pompeo in Luanda, in an implicit reference to China.
According to Pompeo, US companies will invest more than to US$2 billion into a natural gas project. He also touted various development programmes, including the new US International Development Finance Corporation, saying that much of the nearly US$60 billion in capacity will be available for Africa.
Gong points to how, in the last decade, Chinese companies have invested broadly, building more than 2,800 km of railroad in Angola, 20,000 km of roads, 100,000 social housing units, 100 schools and 50 hospitals, among other infrastructure.
"Unlike those democracy teachers who just wanted to give ABC lessons and impose their doctrines, speaking empty words but with crossed arms on the other side of the ocean, China has always been a doer who works together with Angolans," he says.
China, he adds, is the main source of foreign investment in Angola, with US$176 million directly in 2019, and Chinese companies "have been actively participating in the process of economic diversification in Angola."
"China and Angola are good friends for common development. Unlike those speculators who earn a little money and escape quickly, China has established in Angola the mutually advantageous cooperation, with its feet in the mud, and ordinary people have really benefited," says the Chinese diplomat.
Addressing readers directly, the diplomat stresses that they have probably already benefited from infrastructure built by China, and highlights the human ties, namely the social role that some Chinese entrepreneurs have had, providing jobs, training and sometimes helping the neediest.
In the article, he also evokes the health efforts and the personal sacrifice of countless Chinese workers.
"Angola is an important country in Africa, and a microcosm of China-Africa cooperation. Today, the China-Africa trade volume has exceeded US$200 billion. (…) We will work hand in hand with our African friends to embrace a new era of win-win cooperation and common development," says the Chinese ambassador in Luanda.
According to the World Bank's Global Economic Prospects 2020, released in January, Angola is among the countries in Sub-Saharan Africa with the highest debt burdens, along with Ghana, Mozambique, Namibia, South Africa and Zambia.
This group of countries is considered, "susceptible to sudden increases in investor risk aversion," which "can lead to sizeable currency depreciations, capital outflows and increases in borrowing costs as risk premia rise sharply. Where the debt is largely denominated in foreign currency, sharp currency depreciations would make servicing more challenging."
Manuel Nunes Júnior, the Angolan minister of State for Economic and Social Development, recently said that more than half of the Angolan 2020 State Budget, in the amount of AOA 15.9 billion (US$32.25 million), is earmarked to pay public debt, with a weight of 90% of GDP.
The World Bank forecasts Angola climbing out of recession in 2020, growing at a rate of 1.5%, down 1.4 percentage points from their forecast in June 2019. While projections for 2021 also took a hit (down 0.4 percentage points), Angola should still see growth increasing, to 2.4% in 2021 and 3.0% in 2022.
This forecast, the report explains, "assumes that the structural reforms – supported by prudent monetary policies and fiscal consolidation – allow for greater macro-economic stability, and to continue the improvement of the business environment and strengthening of private investment."
However, since the emergence of the novel coronavirus (COVID-19), World Bank President David Malpass has stated that the global growth forecast for 2020 – 2.5%, up from 2.4% in 2019 – will be revised down.
"There will be a lowering of forecasts for at least the first part of 2020," he said. Janet Yellen, former chairwoman of the US Federal Reserve and president of the American Economic Association, agreed, saying the virus "seems certain to have a significant effect, at least for a quarter or two" on China, which will surely hit the global economy.
Photo of Gong Tao, China's ambassador in Luanda, with Angolan President João Lourenço | © Macauhub/Macau News
Other articles
Angola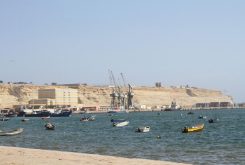 27 March 2020
Angolan shipyard partners with Chinese companies to build fishing vessels
Angola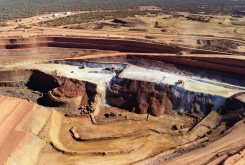 26 March 2020
Pick-up in Chinese demand keeps Angolan rare earths mining project on track