Angola's economy has been undergoing a prolonged recession since 2014, with oil production declining and oil prices subdued. Not only is the recession expected by independent analysts to continue, but now Angola's second export – diamonds – is also taking a hit.
According to the Ministry of Finance (Minfin), Angola exported 706,900 carats in diamonds in October, a decrease of 8.3 per cent compared to September. Since the beginning of the year, the volume of carats exported amounts to 7.12 million, 11.4 per cent below the same period last year.
The fall in quantity has been somewhat compensated with the higher average export price (up 4.2% year on year), leading to export earnings being just 7.7 per cent lower in 2019 compared to the same period in 2018.
In terms of diamond tax revenue, the government raised about US$75.5 million in the first 10 months of the year, a year-on-year decrease of 1.3 per cent.
The second international diamond auction organised by state-owned diamond trading company Sodiam will take place until 5 December, which should determine the result on the following day. This auction will have five lots of diamonds, coming from the Cuango Mining Society and the Catoca Mining Society. The first auction yielded US$16.7 million to Sodiam.
The Angolan mining industry has been undergoing substantial changes, namely in licenses and registration.
Lucapa Diamond Company is in advanced discussions with the Angolan Ministry of Mineral Resources and Petroleum and Angola's national diamond company, Endiama, to potentially secure a majority stake in the Project Lulo joint venture, which holds the primary (kimberlite) exploration licence for the 3,000km2 Lulo diamond concession in Angola.
Lucapa currently holds a 39 per cent interest in Project Lulo and is the operator of the kimberlite exploration joint venture, with remaining shares held by Endiama (51%) and Rosas & Petalas (10%).  Discussions are expected to be concluded in the first quarter of 2020.
Declining oil production and a further drop in global crude prices will lead to a 6.9 per cent drop in Angolan oil exports in 2020, according to the Economist Intelligence Unit (EIU). Along with gas, diamond exports are expected to assist, starting in 2021, in a recovery of the country's sales. The non-oil commodity exports should play a vital role, as oil revenue gains will be constrained by falling production volumes until 2024, in spite of price increases.
Oil is Angola's main export and source of revenue, and a combined declined in prices and production has resulted in four consecutive years of recession. For 2020, the government is forecasting its first year of growth since 2014 (a real GDP growth forecast of 1.8%, with a benchmark oil price of US$55/barrel), but most independent analysts, such as the EIU, disagree.
According to these analyses, the low price of oil and subsequent lower government revenue and reduced spending and private consumption flows, should lead to another decline in 2020.
Secondary sources data reported to the OPEC oil cartel (which Angola joined in 2007) show that the country produced 1.356 million barrels per day (bpd) in October, a drop of 43,000 bpd from September that is credited to 'maintenance' issues. OPEC, along with its allies (known as OPEC+) agreed to reduce supply by 1.2 million bpd as of 1 January 2019, with OPEC accounting for about 800,000 bpd of the total. A meeting scheduled for 5-6 December will likely discuss deeper supply cuts amid forecasts of excess supply in 2020.
With oil revenue falling, the government has resorted to market financing. In late November, Angola returned to the Eurobond market, issuing US$3 billion in two tranches with different maturities. Global banks such as Deutsche Bank, ICBC and Standard Chartered will be monitoring the issue.
The executive also approved a US$580 million loan in November with the Dutch ING Bank, for the construction of electric power infrastructure in the eastern provinces of Angola.
The week before, in late October, the African Development Bank (AfDB) approved a US$165 million loan to the country, as part of a three-year economic diversification support programme to restore Angola's macroeconomic stability.
In October, the state issued a total of AOA 6.97 billion in domestic securities. This value corresponds to AOA 3.8 billion in six-month treasury bills (BTs), AOA 0.7 billion in one-year BTs and AOA 2.5 billion in local currency treasury bonds (OTs). For November, the executive expects to issue AOA 20 billion in BTs and AOA 40 billion in local currency OTs. Issues of US$8 million in dollar-denominated OTs (two and three-year maturities) were also scheduled.
At the same time, the government is rushing to launch new projects able to sustain oil production in the near future.
Proposals by Sonangol, Total and ENI were accepted on the Namibe and Benguela basins oil block auction, with the procedure winners to be announced on 17 January 2020. The process, with ensuing direct negotiations, should formally end by late April 2020. ENI acquired shares in two oil blocks from the Angolan oil & gas concessions agency (ANPG): in the offshore Block 1/14, with the Italian firm having 35 per cent and operator role, together with Equinor (30%), Sonangol (25%) and ACREP (10%); and in the onshore Cabinda Centre Block, also as operator, with 42.5 per cent, together with ExxonMobil (32.5%) and Sonangol (25%).
In addition, the government and ENI signed an agreement for a concession contract on a 50 MWp photovoltaic plant in the Namibe province.
Other articles
Angola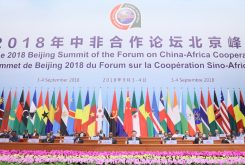 06 April 2020
Support grows for African countries' call for urgent debt relief